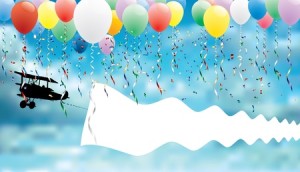 Who do you want to celebrate? It's important to honor those special occasions — such as milestone birthdays —with more than a slice of cake and a cup of punch.
Take the sweet-sixteen birthday, for example. It should be celebrated in memorable fashion, because it marks one of life's sweetest transitions from childhood into adulthood.
At the other end of life's journey, wouldn't grandpa get a kick out of a banner with his name and 80th birthday on it? Or what could be cooler than taking grandma for a ride in a Piper Cub aircraft to celebrate her 70th  … or even her 100th birthday?
If you're looking for ideas to honor your loved ones with a sky banner or a very special excursion, get in touch with us. And think about it: Seniors today are willing to go where few have gone before. Why not mark your loved one's special birthday with a bird's eye view of the gorgeous Jersey Shore?