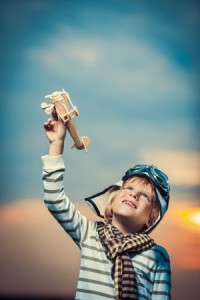 Over the past seven decades, the Tomalino family has logged 70 years of lifting aloft skyward-bound messages. These appeals writ large across the sky over the Jersey Shore have left an indelible impression in the region.
To this day Paramount Air Service is a hard-working marketing firm that exemplifies stellar teamwork. The firm's aerial advertising campaigns have contributed to expanding commerce in the region. It's a feat Jersey Shore merchants appreciate as they depend upon a seasonal influx of tourists each year.
The family-owned firm has an impressive track record when it comes to the logistics of executing an aerial banner marketing campaign. Banners can weigh as much as 50 pounds and may extend to over a hundred feet in length. This feature article captured a bit of the pioneer spirit of this family's legacy — one that has touched so many Jersey Shore visitors over the years.
The family's 70-year history is rich with memories of launching countless aerial advertising campaigns. Family members work together to entice beach goers to sample local attractions in one of the nation's most popular resort areas on the East Coast. 
Jim Dahlen is the chief pilot for Paramount Air Service. The company plays an important role in promoting commerce in this tourist-dependent community.
For tourists, it's always a thrill to see one of the family's aerial banners fluttering against a backdrop of a deep-blue sky. But what many tourists and merchants don't see is the behind-the-scene logistics. It takes a high-degree of teamwork to execute an effective aerial advertising campaign.
For merchants on the Jersey Shore, the company's marketing strategy benefits not only this family-owned company but also the entire region. Are you ready to see what an aerial marketing campaign can do for your Jersey Shore business this summer?