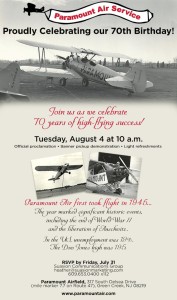 Paramount Air first took flight in 1945, a year that marked significant historic events. World War II came to an end and Auschwitz was liberated. In the U.S., unemployment was 1.9% and the Dow Jones high was 195.
Join us as we celebrate 70 years of high-flying success on Tuesday, August 4th at 10:00 a.m. Refreshments will be served during an official proclamation, and keep your eyes on the skies for a banner pickup demonstration!
Meet us at Paramount Airfield, 317 South Delsea Drive (mile marker 7.7 on Route 47), Green Creek, NJ 08219
RSVP by Friday, July 31!
Contact Suasion Communications Group at:
heather@suasionmarketing.com
609-653-0400 x112