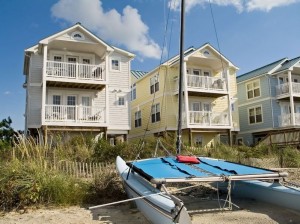 The advantages of vacationing in the off-season include less traffic and more accommodation options at cheaper rates.
But if you're planning a trip to the Jersey Shore this winter or early spring, why not try going off the beaten path? These quieter moments are the best time to see how locals live and there's no better way to do this than by renting out a private home.
While hotels have more availability during the off-season, nothing can beat the unique offerings of a private home. It's a growing piece of the tourism industry, with websites like airbnb.com claiming more than 15 million stays booked through its site since 2008. Other companies such as homestay.com and  vrbo.com offer similar vacation stay options.
While a hotel promises the basics, it will never have the charm (or perhaps the quirkiness) of a local's abode. One advantage of renting an entire home or apartment is more privacy. It also allows for a larger group, cutting down on per-person costs. If you're planning a family reunion or a gathering of old friends at the Jersey Shore, you can find a home with several rooms to accommodate everyone.
A private home offers amenities not usually found (for free) in traditional hotels. Washers and dryers are often made available for guests, as are kitchens. Hosts of these private rentals often are in contact prior to your stay and as they open their homes to travelers, they are quite open themselves! Be sure to ask them where the best neighborhood spots are. Which café serves the tastiest treats? Where's the most scenic place on the beach for a picnic? They'll be eager to give you the inside scoop.
While the off-season may not offer the typical Jersey Shore fare, you won't be disappointed if you search out the places to stay that aren't quite on the map. Individualization is the future of vacation!