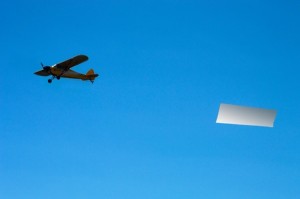 Looking for a creative way to advertise? Look no further than aerial banners! Here are the benefits of going up, up, and away:
Area—Planes with your message or logo are flown in a pre-determined target area. Whether it's a party, an entertainment event or the entire beachfront, your message will be in the sky where you need it most.
Economical—Banners are a cost-effective way to present your business to the maximum number of viewers in a set span of time.
Reach—A banner with altitude has the advantage of being visible to many. Tourists and locals alike will be exposed to your message in numbers difficult to reach using traditional advertising methods.
Innovative—There's nothing quite like seeing a banner in the sky. It's an art form of its own that will delight viewers. If you're looking for a truly out-of-the-box way to draw in an audience, this is the way to do it!
Accepted—Advertising by air gives you the benefit of a non-intrusive marketing campaign. Viewers are not inconvenienced or disrupted, but you still get their attention!
Lasting impression—Aerial banners are an advertising venue that promises high recall from an audience. It's more of an experience than other forms of marketing, so you'll leave behind a message that won't soon be forgotten.
Paramount Air offers complete service for those seeking aerial banners: consultation, banner production, and flying. So take off with us today!