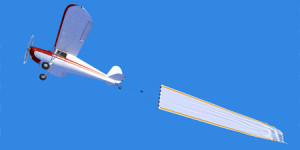 Paramount Air offers a cost effective, unique way to advertise. You can get noticed by millions and stand out from your competition with aerial advertising. It's a great way to gain interest from your audience.
We are the oldest and largest aerial advertising firm in the nation, we started in 1945 in Cape May County, NJ. We have our own airport in Cape May County with an 8,000 square foot hanger.
The staff is devoted to safety, as well as quality service. We believe in putting the client's needs first, and exude a reputation of excellence. The service is not only reliable, but outstanding. Paramount Air works with a wide variety of clients, including: restaurants, entertainment venues, universities, pharmaceutical companies, hospitals, corporations, and armed services.
We offer several flight areas to accommodate companies. We work with the client to meet their needs, whether that is to concentrate advertising dollars on a small specific geographical area or spread it over a large extensive area.
Paramount Air not only offers expertise and outstanding service, we also offer a creative way to advertise. Aerial advertising offers companies the ability to share their message with millions in a unique way that disrupts their everyday life and makes them take notice of what you have to say!